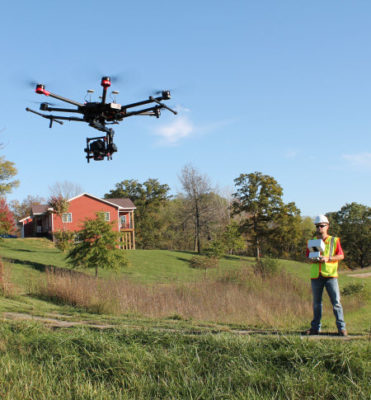 The opportunities that drones have opened up in the land surveying, civil engineering, construction, and mining industries are considerable. From data collection through office design, these tools have been able to help provide a "positive feedback loop" for land surveyors while also helping civil engineers increase their productivity and create better designs in less time. By using flyover data to instantly generate interactive 3D maps of sites, users in all of these industries have been able to create incredible efficiencies that are changing their workflows for the better.
These are the kinds of specific applications of drone technology that will be discussed in detail during the Drone Topo Surveying with Carlson PhotoCapture and Precision 3D Topo 2018 webinar on Thursday, August 30th. This free event will allow participants to familiarize themselves with the efficiencies of drone surveying when using Carlson PhotoCapture in conjunction with Precision 3D Topo 2018.
Precision 3D Topo allows users to import survey data, points, polylines, surfaces, point clouds, both traditional LIDAR and aerial drone survey data, and more from a wide variety of programs and entities to create usable 3D surfaces. As we found out though, these capabilities are about far more than drones and data.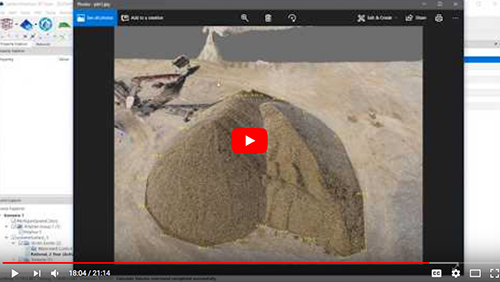 Carlson Precision 3D Topo | Advanced Pile Volumes
Helping Surveyors Stay Competitive
Engineering, surveying, construction, land planning, and mining represent just a few of the industries that Carlson Software is focused on, as the company specializes in CAD design software, field data collection, and machine control products. Their products are also used by government officials as well, where a single picture in a 3D environment can tell stakeholders and constituents far more than a report ever could.
It's a distinction that Carlson Software has enabled since 1983, long before drones could clearly be utilized in these applications. Drones have allowed them to take these efficiencies to another level though, as the differences they represent relate to not only being able to capture better information but to how doing so impacts everything else.
"One of the best things about using drones is that you don't have to stop work for the surveyor crew to go out and get their measurements," said Nathan Crews, Senior Software Engineer for Carlson Software. "They can just fly their drone and everything else keeps going as it had been, and that's key for an active site. The technology allows surveyors to bid on jobs that they wouldn't ordinarily get to from a competitive standpoint. It helps our customers to stay competitive."
The efficiencies they create aren't just about downtime though. Drones can capture more exact measurements, and that can mean project managers don't have to add a 20-30% buffer on top of the volumetrics they surveyed. Staying competitive means being able to provide these more exact measurements, but that's just part of how the technology is being used to save time and create opportunities.
"In past projects that I've done, it might take the surveyors a month to go out and bring back a topo map so that I can do my design," said Mark Long, Precision 3D Project Manager at Carlson Software. "Using drones, that can be done as fast as two hours. The more time we can save people, the better it is for everyone."
These examples highlight specifically how drones can fit into civil engineering and surveying workflows to create efficiencies. They're efficiencies that have a direct impact on the bottom line for surveyors, and it's something that is influencing the industry as a whole.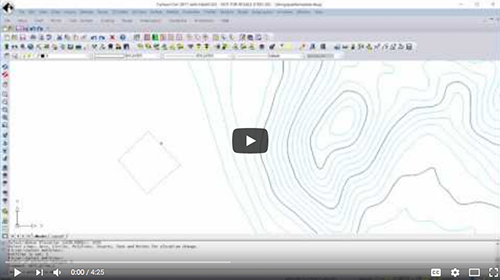 An Overview of 3D Data Menu Commands in Civil 2017
Drones and Their Impact on the Survey Industry
Using the technology has allowed drone operators to survey infrastructure like earthwork in a short amount of time, and that has opened up opportunities for them that wouldn't exist otherwise. Moving or measuring earth is very expensive, and being able to keep close track of what's being moved from point A to point B creates efficiencies in everything from reporting to contractor payments. How doing so changes expectations related to the frequency of measurements is especially important.
"Think about it from the point of view of someone working at a coal mine," said Long, who will be one of the presenters during the upcoming webinar. "They have a pile of coal that they might get a good volume estimate on once a month or quarter, but how much better are they going to be able to make adjustments for that pile if they get an accurate measurement of it every week? Drones allow a city that uses salt on the roads in the winter to keep quantities of how much is being used seasonally. I've seen all kinds of new approaches to measurements of piles because the technology really is a jack-of-all-trades. It can do so much."
Being able to take a measurement every week instead of every other week allows organizations to increase the accuracy of their volume tracking and their pit and pile volume. Companies are getting their deliveries and then getting billable amounts based on these quantities, which is why they want to ensure everything is accurate with those quantities as soon as possible. When it comes to measuring volumes, drones can be much more accurate and obviously safer than the traditional approach where someone goes up and onto the pile. That difference when it comes to traditional approaches extends to how drones are impacting any "photogrammetry or LIDAR" conversations.
"What we've found is that someone might start with traditional LIDAR data, but when they actually have the product site ready, they'll go and fly it with a drone," said Crews, who will also be presenting during the webinar. "They'll collect up-to-date, brand new data based on their area of interest. Then they're able to bring that drone data and LIDAR data into P3D. Doing so allows them to augment the LIDAR data with the new project data they got from the drone, so it's very complimentary."
This kind of usage is the reason Precision 3D Topo 2018 supports both photogrammetry and LIDAR, but it's just one of the specialized tools that Carlson Software can utilize to create efficiencies.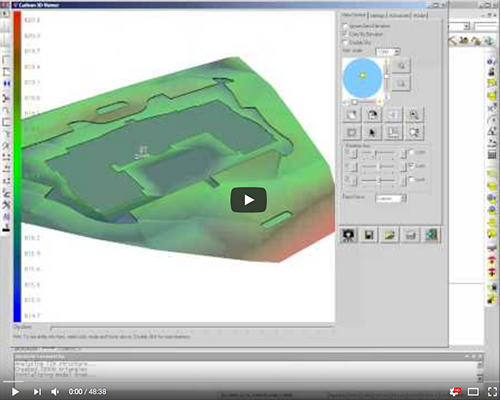 CAD File Takeoff From Start To Finish
Creating Surface Files that you can Design and Build To
Being able to capture highly accurate 3D site data from any camera and share sitemaps with stakeholders anywhere, at any time, are just a couple of the ways drones have been able to make a positive impact in industries that range from civil engineering to construction. They're also two examples of the insight that will be shared by Long and Crews during the upcoming webinar, where the two will discuss in detail how and why these tools are making such a difference.
"Everything in engineering begins with a surface model," Long told Commercial UAV News. "You can't have hydraulic studies without a good surface model. That's what this stuff is really all about. The movement of earth, volumes, in creating surface files that we can design and build to."
Anyone curious about these solutions will be able to get a better understanding of them during the webinar, which will also feature a live Q&A session. It's just one of the many support resources that are available to anyone looking to discover whether or not Carlson Software solutions are the right fit for their projects.
"We have training videos and a free 30 day demo, along with videos on YouTubethat allow you to begin that exploration without even talking to anyone on our end," said Crews. "Anyone curious about our solutions can get free training on them and also try our products out for free to decide for themselves."