Can building information modelling work for cruise ships?
Matthew Jensen, architectural consultant for Fraiserline, takes a look at the challenges and opportunities of using a new type of software during the design and build process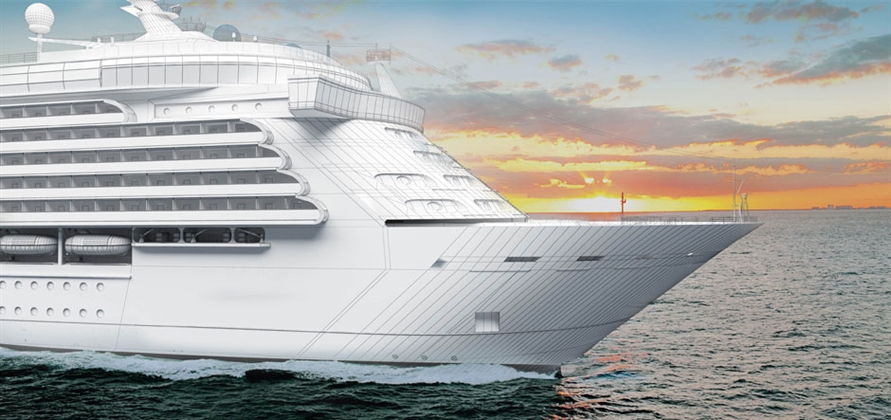 We are in a new generation where new fast-moving, digital technologies are providing new methods for manufacturing, production and collaboration. Engineering production methods have been significantly impacted by the introduction of intelligent simulation systems, design tools and 3D printing technologies, which bridge the gap between the designer and the end manufacturer.
Historically, a designer manually created concept drawings, which were then reinterpreted by a draughtsman in the engineering office to deliver the end product. Traditional office drawing boards were replaced by two-dimensional computer-cided design (CAD) and although the early stages proved resourceful, the process still involved the various transitional coordination between the designer and the manufacturer. Thirty years ago, parametric design software was introduced, allowing all parties to interact with one single design model containing data sets, inventories and snapshots from the evolution of the original idea. Parametric modelling is the most preferred design software in today's industries.
From my own experience, the cruise and ferry design industry is still considered as a grey area when it comes to implementing a design system that is suitable for the marine industry, yet incorporates specialist tools for architectural, interior, product and naval professionals. During the late 1800s, shipowners started to build passenger ships with similar attributes to luxury buildings that were designed to reflect the grandeur of neo-classical architecture. The architects and design teams were primarily naval specialists, however they did adopt the ornamentation of buildings within the interiors of passenger ships. The process would have incorporated hand-drawn blueprints, starting with a concept direction, then technical detail drawings for interior fit-out during shipbuilding. Conventionally, this process was lengthy and required draughtsman in the office to create intricate blueprints with precision drawing skills. The typical problem with this method was that any change or mistake required a complete re-draw of the project files. Being hand-built, the first passenger ships were also highly engineered in comparison to modern fleets and the detail included in production documents was highly in-depth. Shipbuilders began to innovate with new methods and the eventual introduction of CAD also began to change the approach to passenger ship design.
IT technologies allowed design teams to digitally coordinate the drawing files with shipbuilding yards and fit-out contractors. By having overlays for each specific discipline, the shipbuilding specialists can quickly appraise the construction of a passenger vessel in great detail. The process is similar to construction projects for land-based buildings in that it involves an architect, interior designer, engineer and project manager. The spatial arrangement of modern ships is set by the operator, who usually nominates a shipyard that can provide a standard original equipment manufacturing (OEM) solution or a catalogue of typical passenger ship structures. Interior designer for cruise ships and passenger ferries rarely incorporate parametric modelling and most operate only 2D CAD systems.
My own experience working within the cruise ship design industry has raised a major question – can building information modelling (BIM) be expanded to cruise and ferry ship design?
Recently, an industry contact told me that Royal Caribbean International has started to incorporate BIM into its corporate shipbuilding department. While it may be difficult to incorporate the overall naval attributes into BIM, the building-like elements of passenger ships could be introduced into the BIM environment. Typically, tools such as Dassault Systemes' Solidworks have been used for master planning naval architecture and provided better features than 2D CAD. In addition, the coordination of specialist teams needs improvement and almost welcomes the collaborative advantages of BIM – to automate, improve and streamline the design-to-delivery process.
Siemens PLM has developed a specialist software, used by companies such as Daewoo Shipping, Hyundai Heavy Industries and Sunseeker International. The system includes a number of specific features, such as ship structural analysis, material data, mechanical and engineering tools and other comprehensive tool sets. However, if we look at a cruise ship in the context of a building, this software does not provide a teamwork platform that can be friendly to all disciplines throughout the whole build process. The fusion between parametric product design software and parametric architectural software needs a middle ground, that would reshape the way that large passenger ships are built. In addition, the latest BIM and parametric design software includes meta-data capabilities that link to materials and specifications in order to provide a live inventory of production information.
Within the marine industry itself, the technological innovations with ship systems including navigation equipment, power generation, propulsion andautopilot has automated the bridge to "sail by wire", similar to the aviation industry. Contrary to the current design process, the benefits of introducing BIM to the marine market would innovate the future of shipbuilding, yet could provide opportunities for a specialist opportunity for new software tools for this type of industry.
The question that remains outstanding is: how will the design and construction process for new and larger cruise ships change? If BIM won't work, what design tools will be introduced to improve the future delivery of shipbuilding projects that must meet the multi-disciplinary requirements with the cruise and ferry industry?
Fraiserline has worked on various cruise ship projects since it was incorporated in 2016. The company has brought its expertise in, and strongunderstanding of, the architectural and design industry to the shipbuilding industry and created innovative new passenger ships for various operators. We've developed a separate niche marine project service as part of our wider offering and have proudly worked with cruise operators Royal Caribbean International, Celebrity Cruises and Cruise & Maritime Voyages, as well as ferry line Red Funnel and the UK's Royal Navy.
We've provided concept, schematic, technical, and project management services, from project inception to delivery. However, our typical speciality is providing interior architecture and design for both public and private zones on cruise ships. We start by receiving a brief from the client to understand the performance requirements for onboard operations. The team undertakes surveys and then moves on to layout planning, sketch design, plans, sections, elevations, 3D photo-realistic visuals, construction drawings, schedules, reports, specifications, memos and inventories as part of a typical project package.
Our biggest challenge as a business has been working alongside the carrier to appoint a suitable digital design system that enables efficient collaboration and coordinated teamwork, specifically for the cruise ship and marine engineering industry. Our initial investigations into this issue demonstrated that marine engineering companies were working on a wide-range of specialist design tools, ranging from 2D CAD to the latest versions of 3D parametric systems. Recently, we had already begun moving projects onto BIM at Stage 02 in order to ease efficiency and productivity within the office, and this was a prime opportunity to test the capabilities of our BIM solution, Autodesk Revit, to see if it would have merit for the cruise industry.
Having recently undertaken refurbishment contracts for global superliners, the design teams supply project data in the format of Solidworks or IGES files and in some cases we have received a point-cloud internal survey. With our idea to pilot Revit (BIM) for a cruise ship refit, the import of Solidworks files has proven successful because they can be cleanly organised by Revit "families" in a similar practice to managing the imports of Point Cloud data files. While most attributes of a parametric CAD/CAM files are not fully editable or transparent, they can be referenced to represent another teamsdesign elements efficiently within the BIM environment. This has given our designers a quicker and clearer understanding of the proposal in 3D and allows us to parametrically model a solution in real-time for sign-off and approval, and in some case undertake quick CGI simulation visuals.
Pushing BIM into cruise-related projects has been taxing and frustrating, particularly because we are a small business. While trying to migrate various parametric model formats supplied by other parties, it has been near-impossible to improvise tools for non-standard components in BIM – for example to create watertight bulkhead doors that meet marine regulations. In addition, a ship's structure is primarily made from steel and can link to the superstructure orders of Revit, but does not validate the ship performance standards, structural assessment, or construction methods that differ from typical building systems as per the current defaults of BIM.
The overall mantra for BIM is appropriately relevant for the cruise-ship design sector, allowing architects, designers, engineers and professionals to collaborate and coordinate efficiently and effectively. The programmed building vocabularies within the software could be adapted for cruise ship megastructures and could correlate with other engineering software systems easily. However, the end result has still proven to be commercially beneficial when comparing against former practices by using 2D CAD software. Could this be another facet to BIM in the future of automated design software?